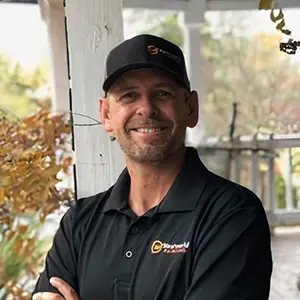 "Hi, it's Chad from Westworld Painting. If you've worked with us in the past, your feedback is very appreciated, so thank you for taking the time to leave us a review! It will help other homeowners and business owners make an informed decision about their painting company.
If you're new to our website, get a feel of what we're about by reading our reviews below."
- Chat Rivett, owner of Westworld Painting
Chad has his crew here on time. They worked on Memorial Day and the day afterwards in 100 degree heat. Work was professionally done, timely and with great precision and quality. Highly recommended painters. Double coated paint, on a 4000 square foot home, in 2 days, and in the heat. Two story home is not an easy task for 2 guys to complete in 2 days. So satisfied with their job!
They showed up when they said they would, they were professional and the workmanship exceeded my expectation. While they were here, we requested several changes to the job and they were able to make changes and meet our needs. I will use them again!
Thanks Michael! I'm glad we were able to have the painting complete before the rest of your remodel. Enjoy!
Chad was responsive and his team did an amazing job on our home in Rocklin. They painted the entire exterior and porch veranda.
Thanks Scott for trusting us with your home. You guys picked out great colors!
Gave us a fair quote, was responsive even during quarantine. The results were great, we chose the stock colors but we were surprised at the difference, especially in the trim. Kids thought we had a new garage door because it looked so good. Thanks Chad!
It has been such an experience working with Chad from Westworld Painting. Chad is a professional, but at the same time he is charismatic, funny and he seems to loves what he does for a living.
We had a hard time deciding what colors we should use for our exterior home, but Chad keep working with us for several weeks, he never complained or got irritated with me and my wife. Not too often we meet people with such a good attitude and Chad is one of those people. By the way, we are very happy with the job that him and his crew did.
What a terrific proffesional experience from beginning to end! We can't recommend Westworld Painting enough. Chad met with us several times to make sure we were absolutely sure about our choices and gave us a very competitive bid.
Our house needed some extra prep work prior to painting which involved some wood replacement and stucco cracks; all repaired perfectly. We are thrilled with the results and several other friends and neighbors have been so impressed with how our house looks and are going with Westworld too!
Thanks for your kind words Bob and thanks for trusting us with your house!
Great company, job was perfect and my house is beautiful! The quote was fair and the crew, Israel and George, were very thorough and very friendly.
Sandra, thank you for your kind words. We really appreciate it. We love hearing comments like this.
Chad and crew have painted a couple of homes for me. They are always very professional and fairly priced for the quality work they produce!
They will show up on time, be very courteous, do an amazing job and go above and beyond to provide a great finished product! I highly recommend them and will definitely use them again in the future!
It was a pleasure working with Westworld Painting! The owner and crew were top notch. Professional, punctual and thorough. I would highly recommend for exterior painting!!
Karen, thank you for giving us the opportunity to serve you and thank you for your kind words. We enjoyed working with you as well!
Chad and his team were wonderful to work with and they did an amazing job painting the exterior of our home. Chad was very professional and responsive and took extra time to explain all of the work that would be done.
Everything happened timely and the quality of the work done was excellent! We are so happy with how our home looks now! We will definitely use Westworld for future painting projects!
It was a pleasure working with you Angie!
Westworld came recommended from a friend. They did a spectacular job painting on our Roseville stucco home that hadn't been looked at for 20 years. There was quite a bit of stucco repair needed and it all looks good as new. Chad was very responsive easy to work with. 
The crew was experienced and great to have around the house. I highly recommend. #rosevillepainter
Thanks David, it was our pleasure to work on your home. It's always great to see what a huge difference a great paint job can make, and yours looks terrific!
Westworld Painting did a top notch job painting our house. Nice to see people take such pride in the work they do. Very professional and polite crew of workers. I highly recommend this painting company.
Thanks Damon and Wendy, it was nice working with you. We appreciate your business!!
Westworld did such an excellent job painting our house!! It looks so amazing!! Super professional team and Chad listened to what we were looking for in terms of color scheme and overall look and gave us exactly what we had imagined at a reasonable price. So pleased we chose Westworld for our project!!
Thanks David. I'm ecstatic we were able to get that "cocoa" look you wanted!!
The pre-paint consultation, prep for painting, painting, and completion walk-through were all seamless. The painters and owner were perfect gentlemen providing us with a fantastic paint job, at a fair price. I highly recommend!!
Thanks David and Ann Marie, it was our pleasure to serve you!
We could not be happier with the amazing outcome of our exterior painting project that was completed using Westworld Painting. Chad, the owner is simply the greatest, he tirelessly worked with my husband and I to narrow down the colors from varying color palettes, along with Marie, a color advisor from Dunn-Edward Paints who will put your color choices in a rendering using pictures taken of your home. 
Their level of professionalism is second to none, and made our experience enjoyable and very satisfied with the final outcome. The employees Chad uses were on time everyday, curtious, professional, and cleaned up everyday before they left. I was encouraged to ask questions and felt more than satisfied with all the answers I received. 
I would, and have recommended them to friends and family. Many Thanks to Chad, and all the gentleman for a tremendous job!
Thank you Sandi, it was a real pleasure working with you. Enjoy your beautiful home!
Westworld painting did an amazing job. Chad was easy to get ahold of and answered any questions we had along the way. We had the main color theme picked out and he was able to help up get the exact colors we wanted. 
Since we were keeping the colors brown/white he encouraged us to put a different color on our door and we are so glad he did. We ended up doing a dark blue and it helped bring the whole look together. The crew was professional, arrived on time, and left the house/area clean. 
There was a small spill we noticed on our window after they left and when I tried to clean it I put a small hole in the screen. Since I wasn't able to clean the spill I texted Chad asking him best way to clean it and he came out, cleaned it and even replaced the screen I put a hole in. Great costumer service!!! I definitely would recommend Westworld.
It was a pleasure Jamie! Your home turned out awesome, enjoy!!
Chad the owner spent a lot of time walking around the house giving me suggestions on fixing small cracks, product, and paint colors. The painting was done on time and at the price quoted. 
Very pleased with the job! We have had our neighbors commenting on the new colors and how pretty the house looks.
Thanks Susan, I enjoyed working with you both!
Very good attention to details. Quickly followed up questions. Friendly bunch of group. Always smiling. We and the neighbors loved the outcome. 
Already got great comments on the choice of colors and workmanship. Chad worked closely with us though out the entire job. Well done.
Thanks JP, we appreciate your business. Your home turned out fantastic!
Westworld Painting was not only a better price than their competitors, but did a neater job than the other painters that my neighbors have used. They arrived on time, did their work very carefully, and finished the job ahead of schedule. Both the painters and the owner were all friendly, professional, and polite. 
They repaired our stucco cracks, power washed the exterior, and painted house and trim work with very high quality paint. I highly recommend them for any painting needs you may have.
Thanks so much Anne! Your home looks great!!
We had the exterior of our house painted by Westworld Painting and were very happy with our experience. Chad, the owner, was professional, knowledgeable, helpful with our questions and flexible with our schedule.
The painters were nice guys, and they did a thorough job with all the details involved in painting the exterior of a house. Our one story house was power washed, windows masked, and house painted in less than 2 days. 
They cleaned up so well the only way to know the house had been painted was how fresh and clean it looked. We are very happy with our experience with Westworld Painting and would definitely recommend them!
Thanks so much David, it was our pleasure serving you! Your home will look great for years!
Chad and his team of painters were great. Took the time for a thorough walk, job description, paint types, and warranty review during our first meeting. 
The job came out exactly how I wanted. I compared with 2 other companies and found their service and price were better than the competition. Have already recommended to other neighbors and would use again.
Chad the owner and his crew were simply amazing! Great from the very first contact, Chad was responsive and wonderful to work with, he walked us through and explained everything. 
His team was punctual, professional, polite, fast and efficient, they did great work. I would highly recommend them for anything you need done! 5 stars!
Thanks Dana, your home looks great! It was our pleasure to serve you!
These guys did a super fantastic job. Chad was very helpful with suggestions for choosing paint colors and with the minor repairs we needed. Everyone was very professional in their work and interaction. And the finished product looks great!! I definitely recommend Westworld Paining!!!
Thanks Dan, I appreciate you kind words. Enjoy your beautiful home!
Absolutely stunning job,punctuality, work ethic, kind crew,fast and detailed.
Good Job Chad. It's been a pleasure ☺
Thanks Lora! The pleasure was ours!
Very happy with the work provided by Westworld Painting. They stained a yard fence we recently had installed, and painted the exterior of our house. 
Chad was very patient with us while deciding on colors (after 4 different samples), and the painting crew was very friendly, courteous, prompt and professional. Highly recommended.
Thanks so much Ray. I knew we'd nail that color! Enjoy!!
I was very pleased with my painting experience. We had to part of the arrangements long-distance and Chad was great about it. The house looks great!
Thanks Betty, I'm glad we were able to help. We'll see you in a year or so!

They delivered high quality professional service. They were very friendly. I appreciate that they went the extra mile to provide outstanding customer service. Chad was very friendly and thorough when he came to give the estimate. He was very detailed and very friendly about the kinds of services his team provided for the exterior painting, from sanding doors, power cleaning and prep before painting. 
He elaborated that his team would not simply just use a spray for the exterior paint but that they would also roll the paint onto the surface to ensure full coverage. He provided 2 coats of paint on the exterior so that we won't have to paint for another 10-20 years. After the estimate was accepted Joel was great in providing paint samples and putting it up on the house so we could see the colors before they did the full paint job. He also went the extra mile to repair an outdoor light that was damaged and hadn't been repaired in 12 years. 
I also appreciate they used a gloss paint for the trim color and door which provided a nice touch because I don't remember requesting that, but appreciate the glossy finish. Overall we are happy with the service and quality of our paint service. The price is a little high, but we appreciate the quality and friendly service.
Thanks Tracy, Joel and I enjoyed working with you!
We had been thinking about painting our house when Westworld showed up at the front door one day! They noticed our 20-year-old paint job was really fading and suggested another coat could be done. We also decided to paint our fence while we were at it. 
Phil was great about answering any questions and walking us through the contract details, and Joel was patient in helping us select the new colors. The painters showed up early one morning and they finished the entire job in one day! 
I have lots of experience painting myself and they saved me what would've been months of work and did a thorough job. Totally worth the cost!
Thanks Jason, glad we could help. Your house looks great!
Very pleased with the job done by Westworld Painting. Chad did a very thorough walk around the house and the quote was very detailed. He worked with my wife on selecting colors and answered any questions we had. 
Chad also worked with us on scheduling the exterior painting around other landscape work that was delayed. The exterior paintwork was performed professionally and the crew was very detail-oriented. 
We also contracted with them to paint our interior doors, casings and sills (while wearing booties and masks inside) and they turned out great. Highly recommend.
Thanks Pat, it was our pleasure!
These guys were great from the moment we spoke.
Professional, prompt, responsive and respectful.
I'm sure we weren't the best customers. When I came to picking out the paint colors, but the guys at westworld painting were patient, and worked with us to get the right colors.
When it came time for painting they went above and beyond, moving some thing, and clearing some over growth from my house to do what was needed to have the Job done right.
Fair priced , and friendly. I would definitely recommend westworld painting!
Really good quality and excellent service.
Thanks Marcie, it was a pleasure working with you and Bill!